ANDY WARHOL SUNDAY B MORNING CAMPBELLS SOUP SUITE OF 3
FABULOUS SUNDAY B MORNING WARHOL CAMPBELL'S SOUP CAN PRINTS

HIGHEST EXCELLENT QUALITY WARHOL FINE ART PRINT

SUNDAY B MORNING WARHOL ARTWORK!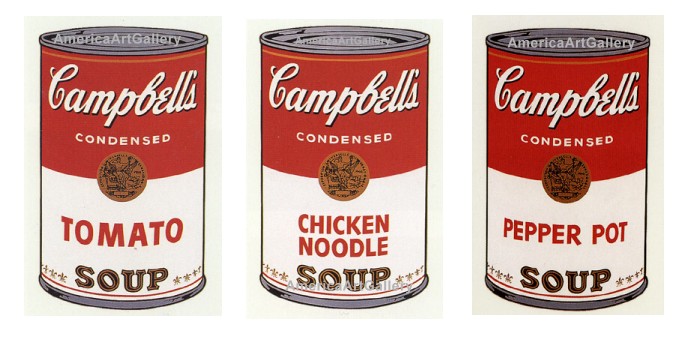 STUNNING SUNDAY B MORNING WARHOL CAMPBELL'S SOUP CAN SCREENPRINTS!, Suite of 3 Prints. These are fabulous exciting screenprints. These are Sunday B. Mornings editions screenprints that are stamped on the verso in blue ink "Published By Sunday B Morning" – "fill in Tour Own Signature". The 'Blue inks' are the 1980's editions and the quality and integrity of the prints is impeccable. They are printed on 'museum board' with the highest quality archival inks. These are highly sought after by collectors for their quality, rarity and exciting vibrant colors. Certificates of Authenticity available upon request.
This item sells in Upscale Art Galleries and Museum galleries framed for up to for $3,000 - $5,000 when it can be found. These are very large Oversize Screen Prints, perfect for any elegant home, office, restaurant or place of business. Buy with confidence. Buy it Now! . The original edition of 250 were all signed and numbered on the verso. These when shown side by side, is nearly impossible to tell the difference. Very limited availability, don't miss your opportunity to own yours now! WE CARRY OVER 100 ANDY WARHOL Art works in our inventory." THIS ITEM IS SUBJECT TO AVAILABILITY!"
Andy Warhol(1928-1987)
Born Andrew Warhola in 1928, Warhol was a founder and major proponent of the Pop Art movement. He remains one of the most talented and influential artists of the 20th century. Warhol pioneered the development of the process of photo-mechanical silkscreen. Warhol is known for his paintings of commercial and iconic images, from the Campbell's Soup can , to portraits of celebrities
like Marilyn Monroe. He created an instantly recognizable style. One of the most highly sort and collected in the world.