RARE ROBERT RAUSCHENBERG HARD TO FIND HAND SIGNED ART PRINT
VERY RARE LIMITED EDITION OF 250 INDIVIDUIALLY HAND SIGNED BY RAUSCHENBERG ORIGINAL PRINT
THIS PRINT IS IN GOOD CONDITION!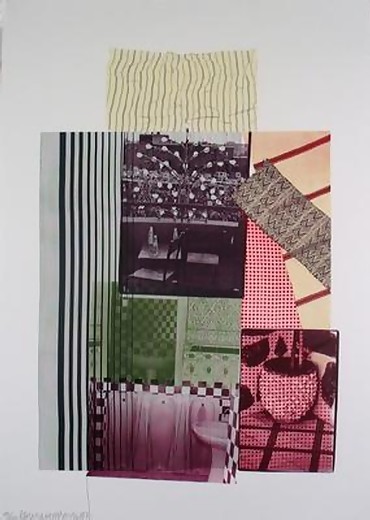 ROBERT RAUSCHENBERG FINE ART PRINT, Excellent Rare and Hard to Find Hand Signed Rauschenberg featuring a fantastic mix of multi media elements and juxtapositions that Rauschenberg is known and loved for. This is a Limited Edition print created for the opening of the Museum of Art in Los Angeles. The print is part of a rare portfolio that included prints by Francis, Warhol, Kelly, St Phalle, Tinguely and other prominent Artists. It features intriguing images and splendid textures with sophisticated colors. Dont miss this opportunity to own this fabulous hard to find INDIVIDUALLY HAND SIGNED BY ROBERT RAUSHCHENBERG piece by one of the most influential and major artists of our generation! Highly desirable Fine Art Print for collectors. Made of the very Finest Archival Museum quality Paper and in good CONDITION from 1983 and is very desirable for collectors. Visit our store for more Rauschenbergs including RARE hand signed works by this artist! This is a very large size print perfect for any elegant home, office, restaurant or place of business.
Robert Rauschenberg (Born: Port Arthur, Texas, 1925)
Robert Rauschenberg is one of the most influential and major artists of his generation and is credited along with Jasper Johns of breaking the domination of Abstract Expressionism.
Rauschenberg works are highly sought after and collected. Known for his extraordinary innovative multimedia works incorporating collage, assemblage, conceptualist methods, printmaking, Silk-screening, and non-artistic materials which that anticipated later movements such as Pop Art, Conceptualism, and Minimalism.
Rauschenberg has been referred to as the Father of Pop Art. His works are included in the collections most large museums throughout the world.

ROBERT RAUSCHENBERG FINE ART PRINT, HAND SIGNED
We Ship Internationally. Contact Us For Details.