MAKE AN OFFER TO BUY - CLICK HERE!

Fab! Dream Team, 1985 Exhibition Poster, Mark Kostabi

ORIGINAL LIMITED EDITION LITHOGRAPH SIGNED AND NUMBERED IN PENCIL BY THE ARTIST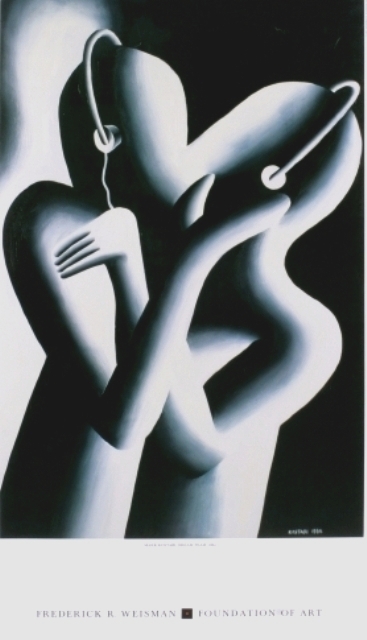 SIZE 36" x 24" INCHES
EXQUISITE! LIMITED EDITION MARK KOSTABI SIGNED LITHOGRAPH. Made of the very Finest Archival Museum quality Excellent NEW MINT CONDITION is highly desirable for collectors. This item selling in Upscale Art Galleries and Museum galleries when and if it can be found. This item is subject to availability. This is perfect for any elegant home, office, restaurant or place of business. WE CARRY SEVERAL works by this artist in our inventory.
Authentic Offset Lithograph on heavy premium stock paper, 1985. Paper Size: 36" x 24." Published by Frederick R. Weisman Foundation of Art. Excellent Condition; never framed or matted. Certificate of Authenticity included. Suggested Retail Gallery Price: $250.

MARK KOSTABI, American (1960 - )
Mark Kostabi was born in Los Angeles on November 27, 1960 to Estonian immigrants Kaljo and Rita Kostabi. He was raised in Whittier, California and studied drawing and painting at California State University. In 1982 he moved to New York and by 1984 he became a prominent figure of the East Village art scene. Kostabi has designed album covers for Guns 'N' Roses and The Ramones. In 1988, inspiring extensive international press coverage, he founded Kostabi World, his large New York studio known for openly employing numerous painting assistants and idea people. In 1996 he began dividing his time between New York and Rome and consequently his work's already strong presence in the Italian art scene became much more prominent.
Retrospective exhibitions of Kostabi's paintings have been held at the Mitsukoshi Museum in Tokyo (1992) and the Art Museum of Estonia in Tallinn (1998). Kostabi's work is in the permanent collections of the Museum of Modern Art, the Metropolitan Museum of Art, the Guggenheim Museum, the National Gallery in Washington D.C., the Museum of Contemporary Art, Los Angeles. His permanent public works include a mural in Palazzo dei Priori in Arezzo, Italy
Kostabi has been profiled on 60 Minutes, The Oprah Winfrey Show, CNN, MTV and numerous television programs throughout Europe and Japan. In print he has been featured in The New York Times, People, Vogue, Playboy, Forbes, Artforum, Art in America, ARTnews, Flash Art.

We Ship Internationally. Contact Us For Details