MAKE AN OFFER TO BUY - CLICK HERE!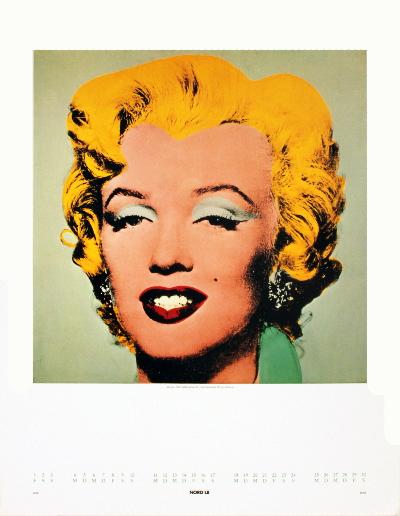 Fabulous Warhol-Marilyn
Fabulous QUALITY OFFICIAL Warhol Offset Lithograph
Medium: Offset Lithograph
Condition: A: Mint
Image Size: 15.75 x 15.75 in.
Paper Size: 24.5 x 19 in.
Year: 1990
OFFICIAL Warhol ARTWORK!

Fabulous Warhol-Marilyn, This is a wonderful exciting Offset Lithograph.Page from an original large format, spiral-bound calendar entitled "$tars" by Andy Warhol from the year 1990 published exclusively for the Norddeutsche Landesbank located in Hanover, Federal republic of Germany. Each month features a different image by Andy Warhol. The images are: Self-Portrait, Frederick The Great, Myths: The Star (Greta Garbo), Portrait of Joseph Beuys, Beethoven, Marilyn (Four Variations), Goethe, Mao, Liza Minelli (Detail), Lenin, Early Colored Liz, and lastly The American Indian (Russell Means). Various Dollar Bill images by Warhol printed on a type of translucent vellum separate each month. Calendar and image layout designed and created by the team of Roger L. and Nance Schlaifer, licensee of Warhol images at the time, published and printed by te Neues Verlag, Germany. Featured in several important published works on the artist. Limited Edition features sophisticated brilliant color tones in this print, excellent!
Made of the very Finest Archival Museum quality MINT CONDITION is highly desirable for collectors. This item selling in Upscale Art Galleries and Museum galleries when and if it can be found. This item is subject to availability. This is perfect for any elegant home, office, restaurant or place of business. WE CARRY SEVERAL Warhol Art works in our inventory.