MAKE AN OFFER TO BUY - CLICK HERE!


HAND SIGNED REECH BY VICTOR VASARELY RETAIL $3.6K
HIGHEST EXCELLENT QUALITY ORIGINAL FINE ART SCREENPRINT IN COLORS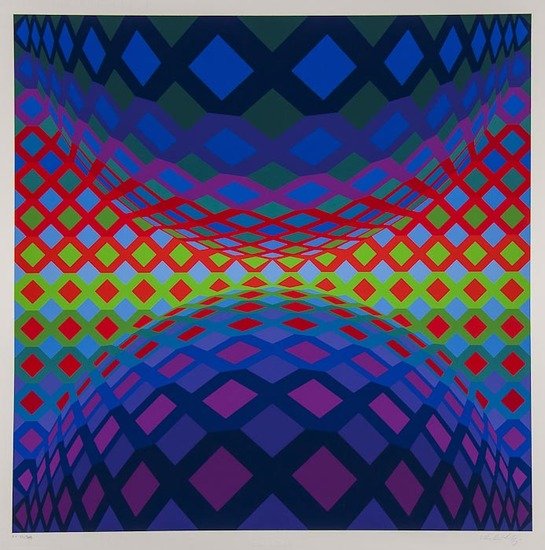 Artist: VASARELY, VICTOR
Title: REECH
Retail Price: $3,600.00
Size: 26.5 x 26.5 INCHES
Year: 1974
Medium: SCREENPRINT IN COLORS
Edition: 750

VICTOR VASARELY RARE FABULOUS BEAUTIFUL SCREENPRINT IN COLORS. Victor Vasarely (1906-1997) Untitled screenprint in colours, signed in pencil, inscribed and numbered, printed by Domberger Stuttgart, published by Editions Euro Art in Vienna, with their blindstamp, on Fabriano wove paper, with full margins, 26.5 x 26.5 inches.

Vasarely is well listed and known as a founder of Optical Art. His works are included in almost every Museum in the world having a Collection of Contemporary Art. THIS IS NOT THE UNSIGNED EDITION THAT WAS DONE FOR COLLECTOR'S GUILD IN AN EDITION OF 5000. THIS IS THE FINE ART SCREENPRINT THAT WAS DONE FOR FINE ART GALLERIES. EXCELLENT CONDITION.


VICTOR VASARELY
Hungarian artist, Victor Vasarely, born April 9, 1908, is perhaps the best-known creator of post-World War II geometric and Op Art painting. He studies at the Podolini-Volkmann Academy in Budapest, later transferring to the Muhely Academy, referred to as the Budapest Bauhaus. There he became familiar with contemporary research in color and optics by Johannes Itten, Josef Albers and Constructivists such as Kandinsky, Malevich and others. He worked as a graphic designer until 1944. First creating complex black-and-white patterns in his earliest paintings.
Vasarely was one of the most influential op artists. Vasarely is in the vanguard of contemporary artists and one of the most influential artists of the Op art movement. Vasarely is a master at optic color combinations and contrasts.
His writings defined the philosophy of Op Art and explored the science of optical effects and illusions. He was a pioneer in the development of almost every form of optical device for the creation of a new art of visual illusion. Typically, the artist arranges a large number of small, nearly identical geometric shapes in patterns that generate vivid illusions of depth and motion. His use of various devices in his paintings create the illusion of movement on the two dimensional canvas.
Vasarely is the recipient of numerous major awards and honors, including the Sao Paulo Medal of Honor, Presidential Citation, New York University, Guggenheim Prize, New York; Painting Prize, Carnegie Institute, Foreign Ministers' Prize, Tokyo Biennale, Eighth Biennial of Art, Aix-en-Provence; Gold Medal, Milan Triennial and many more. Vasarely was named a Knight of the Legion of Honor in France in 1970. He has received an honorary Ph.D. from Cleveland State University and is an honorary professor at the School of Applied Arts, Budapest. Vasarely has been a citizen of France since 1959. Vasarely had some 150 solo exhibitions and has won many highly prized international awards.
Vasarely's works are included in nearly every major museum worldwide, which has a collection of contemporary art. Major museums in Gordes and in Aix-en-Provence, France; in Pecs, Hungary; and a large segment of the Zichy Palace, Hungary are devoted exclusively Vasarely artworks.
We Ship Internationally.
Please contact us for details.