MAKE AN OFFER TO BUY - CLICK HERE!

HAND SIGNED TABLE FLOWABLE BY DAVID HOCKNEY FRAMED RETAIL $40K
HIGHEST EXCELLENT QUALITY ORIGINAL FINE ART COLOR LITHOGRAPH ON RIVES BF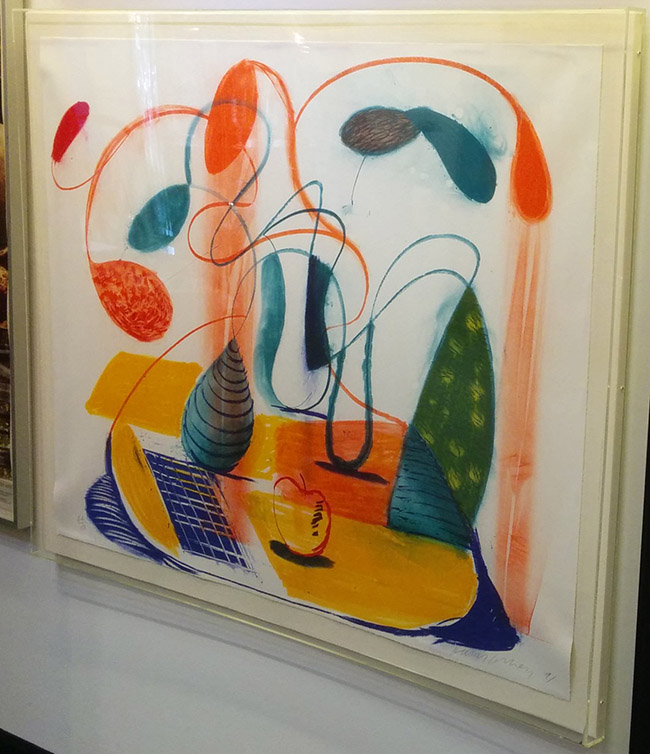 Artist: HOCKNEY, DAVID
Title: TABLE FLOWABLE
Retail Price: $40,000.00
Size: 44 X 57 INCHES
Year: 1991
Medium: COLOR LITHOGRAPH ON RIVES BF
Edition: 50

DAVID HOCKNEY RARE FABULOUS BEAUTIFUL COLOR LITHOGRAPH ON RIVES BF. Hand signed and numbered in pencil. Publisher, Tyler Graphics Ltd, Mount Kisco, New York. Artwork is in excellent condition. Certificate of Authenticity included.

This item selling in Upscale Art Galleries and Museum galleries when and if it can be found. This item is subject to availability. This is perfect for any elegant home, office, restaurant or place of business.
David Hockney, (born 9 July 1937)
David Hockney is an English painter, printmaker, stage designer and photographer. He was featured in the exhibition Young Contemporaries along with artist Peter Blake – that announced the arrival of British Pop art. David Hockney became internationally famous in the early 1960s as one of the influential artists of the pop art movement in the United Kingdom. He emigrated to the United States and was known for his "swimming pool" paintings during the '60s

In 1963 Hockney visited New York, making contact with Andy Warhol. A subsequent visit to California, where he lived for many years, inspired Hockney to make a series of paintings of swimming pools in Los Angeles, rendered in a highly realistic style using vibrant colors. In October 2006 the National Portrait Gallery in London organized one of the largest ever displays of Hockney's portraiture work, including 150 of his paintings, drawings, prints.
We Ship Internationally.
Contact Us For Details.