FABULOUS OFFICIAL AUTHORIZED LEROY NEIMAN LITHOGRAPH PRINTS
HIGHEST EXCELLENT QUALITY ORIGINAL OFFICIAL AUTHORIZED LEROY NEIMAN FINE ART PRINT
OFFICIAL AUTHORIZED LEROY NEIMAN ARTWORK!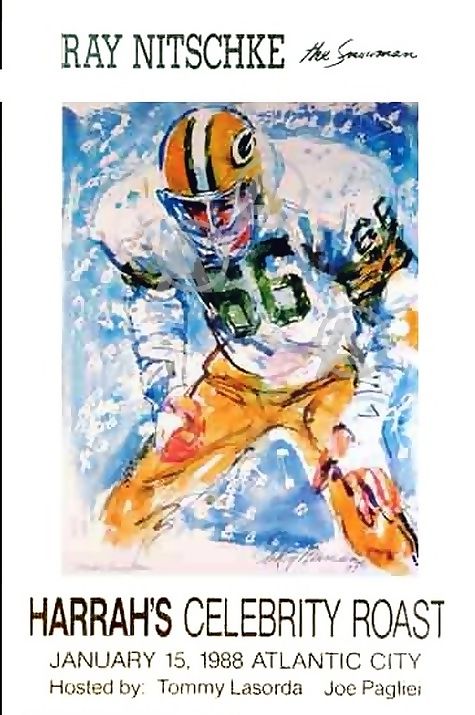 PAPER SIZE: 25" x 38"
BEAUTIFUL AUTHORIZED LEROY NEIMAN PLATE SIGNED LITHOGRAPHS! . This is a wonderful LeRoy Neiman Harrah's - Ray Nitschke Print Created by Artist LeRoy Neiman. It is the authorized and features gorgeous deep rich colors on this print, excellent! Made of the very Finest Archival Museum quality Paper and in excellent NEW MINT CONDITION is Highly desirable for collectors. Authorized by LeRoy Neiman. These are a collection of gorgeous amazing prints that make a great statement and a wonderful collection from a highly collectable world renowned artist! Don't miss your opportunity to own this collection.
LeRoy Neiman
Best known for his brilliantly colored, splendid energetic images of sports, sporting events, leisure activities and the good life. He was the official artist at five Olympiads. His subjects have included Kentucky Derby to Wilt Chamberlain, from the America's Cup to Muhammad Ali, from the Super Bowl and Frank Sinatra to golf champions. His work chronicles the contemporary lifestyles and he is a creator of the action-subject. Neiman paints with a technique that imparts a strong Impressionistic style and incorporates the action paintings of the Abstract Expressionists.
Neiman was born in St. Paul, Minnesota and studied at the Minnesota Museum of Art, Art Institute of Chicago, the University of Chicago, and the University of Illinois.
LeRoy's works are widely collected in major collections and museums including the Baseball and Football Halls of Fame, the Art Institute of Chicago, Hermitage Museum in Leningrad, the Portland Museum of Art, the and universities throughout the United States.
OFFICIAL AUTHORIZED ANDY LEROY NEIMAN ARTWORK!
We Ship Internationally. Contact Us For Details.