MAKE AN OFFER TO BUY - CLICK HERE!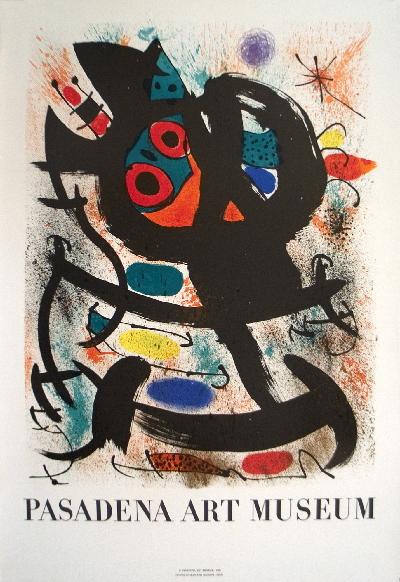 Miro-Pasedena Art Museum Exhibition
OFFICIAL Miro Offset Lithograph
Medium: Lithograph
Condition: A-: Near Mint, very light signs of handling
Image Size: 26 x 20 in.
Paper Size: 31.5 x 22 in.
Year: 1969
Low Estimate: $825 - High Estimate: $ 1125

OFFICIAL Miro ARTWORK
Miro-Pasedena Art Museum Exhibition, This is a wonderful exciting Offset Lithograph. Original exhibition Poster for Portraits at Jablonka Galerie, Berlin 2007.Reference #36 from J. Corredor-Matheos, "Miro's Posters', 1980Pasadena Art Museum Exhibition. 1969.Poster produced for the retrospective exhibition of Joan Miro's graphic work, held at the Pasadena Art Museum, California, U.S.A.Size 80.5 x 56.5 cmPublished by Pasadena Art Museum, PasadenaSupplemental infromation: 100 copies of coloured lithographs were printed avant la lettre on Arches paper, numbered and signed. Bibliography: Herrmanns, R: "Affischer av Miro" A.H. Grafik, Stockholm, 1974, pg 55, #20 ; Catalogue for the Exhibition "Miro: selected graphics". Berggruen Gallery, San Francisco, 1970 Featured in several important published works on the artist. Limited Edition features sophisticated brilliant color tones in this print, excellent!
Made of the very Finest Archival Museum quality MINT CONDITION is highly desirable for collectors. This item selling in Upscale Art Galleries and Museum galleries when and if it can be found. This item is subject to availability. This is perfect for any elegant home, office, restaurant or place of business. WE CARRY SEVERAL Miro Art works in our inventory.