FABULOUS PETER MAX HAND SIGNED LIMITED EDITION ARTWORK
HIGHEST EXCELLENT QUALITY ORIGINAL FINE ART SERIGRAPH
BY ARTIST PETER MAX! HAND SIGNED!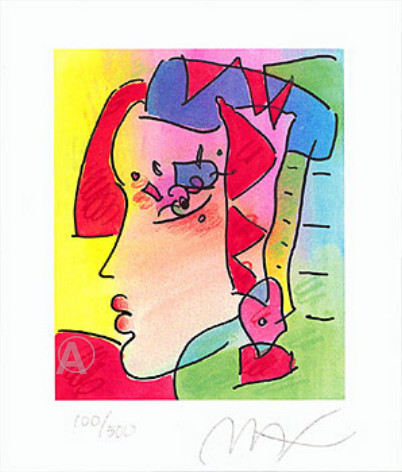 Size: 8.5" x 7"
PETER MAX GREAT RARE LADY PROFILE IV HAND SIGNED LITHOGRAPH. OWN IT NOW! This is your opportunity to own a fabulous original Peter Max hand signed and hand numbered lithograph print. This extraordinary work is one of a very limited edition of only 300 that were individually hand signed on the lower right and numbered by Peter Max. Comes with COA Certificate of Authenticity. This is Peter Maxs beautiful wonderfully colored Lady Profile IV. This is fabulous and the Ladies Profiles of Peter Max are among his most beautiful and enduring signature icons. No Peter Max collection is complete without one of these. This is the perfect one to start or add to your peter Max collection. This is a wonderful exciting collectible work! Features gorgeous exciting color tones in bright rich hues on this print, excellent! These elegant striking pieces would make a splendid impression and fantastic statement anywhere. Features incomparable colorations and beautiful lines on these prints. This piece is stunning in person, photo does not do it justice. Made of the very Finest Archival Museum quality paper. This item is not framed. This is an outstanding piece in excellent condition that has never been framed, this rare piece is highly desirable for art collectors!
ARTIST PETER MAX (Born: 1937)
German born American artist, Peter Max is best known for his fantastically colorful images and exciting exuberant style. Pop artist Max, like his contemporary Andy Warhol, had created his own artistic force with iconic figures and has captured the faces of the Statue of Liberty, the Mona Lisa, Mick Jagger and George Washington in his one of a king Technicolor style. This acclaimed artist's work is also held in prestigious museum collections around the world.
Born in Berlin, Peter lived in China, as a child and traveled to India, Africa, and Israel and Paris, until his family moved to the U.S. Trained at the Art Students League, Pratt Institute, and the School of Visual Arts in New York. When he left art school in the 1960s he began producing, "cosmic imagery" that catapulted him to prominence and garnered him the cover story in Life magazine.
Max is noted for his surging graphic designs in bright, vibrating colors while incorporating psychedelic and celestial motifs. Max is a creative and prolific artist who has worked with acrylics, oils, water colors, pastels, charcoal, etchings, engravings, lithographs, serigraphs, silk screens, sculpture and graphics. Max's Cosmic '60s art Pop imagery captured the imagination of an entire generation and catapulted the young artist to fame and fortune. Max is a painter for four former U.S. Presidents Carter, Ford, Bush and Reagan and created posters for Bill Clinton's inauguration.
Max has had numerous International museum shows, and gallery shows worldwide. His works appear in the prominent collections of many major museums.His trademark artworks have achieved international fame.
PETER MAX LIMITED EDITION LITHOGRAPH!
We Ship Internationally. Please contact us for details.