MAKE AN OFFER TO BUY - CLICK HERE!

PLATE SIGNED L'AGE DE SOLEIL - POUR ROBY BY PABLO PICASSO RETAIL $1.65K
HIGHEST EXCELLENT QUALITY ORIGINAL FINE ART ETCHING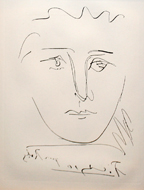 Artist: PICASSO, PABLO
Title: L'AGE DE SOLEIL - POUR ROBY
Retail Price: $1,650.00
Size: 16.5 x 14 INCHES
Medium: ETCHING

PABLO PICASSO RARE FABULOUS BEAUTIFUL ETCHING. Paper size 16.5" x 14". Plate signed and titled. Artwork is in excellent condition. Certificate of Authenticity included.

This item selling in Upscale Art Galleries and Museum galleries when and if it can be found. This item is subject to availability. This is perfect for any elegant home, office, restaurant or place of business.
We Ship Internationally.
Please contact us for details.