MAKE AN OFFER TO BUY - CLICK HERE!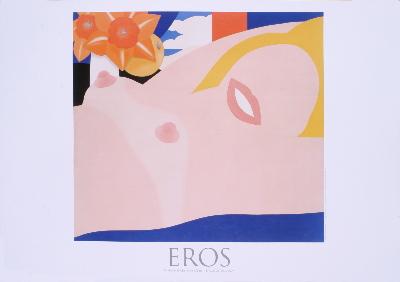 Wesselmann-Great American Nude No. 79
OFFICIAL Wesselmann Offset Lithograph
Medium: Offset Lithograph
Condition: A: Mint
Image Size: 22.5 x 24.5 in.
Paper Size: 27.5 x 39.25 in.
Year:

OFFICIAL Wesselmann ARTWORK
Wesselmann-Great American Nude No. 79, This is a wonderful exciting Serigraph. Original exhibition Poster for Portraits at Jablonka Galerie, Berlin 2007.Exhibition poster published by the Fondation Beyeler for an event titled Eros held at the museum in Basel, Switzerland in 2006. The event featured artworks from major artists related to Erotic art. The poster measures 27 1/2 x 39 1/4 inches. Featured in several important published works on the artist. Limited Edition features sophisticated brilliant color tones in this print, excellent!
Made of the very Finest Archival Museum quality MINT CONDITION is highly desirable for collectors. This item selling in Upscale Art Galleries and Museum galleries when and if it can be found. This item is subject to availability. This is perfect for any elegant home, office, restaurant or place of business. WE CARRY SEVERAL Wesselmann Art works in our inventory.