MAKE AN OFFER TO BUY - CLICK HERE!

Great Untitled 23 Serigraph,Yaacov Agam - Signed

GREAT QUALITY OFFICIAL LARRY ZOX PRINT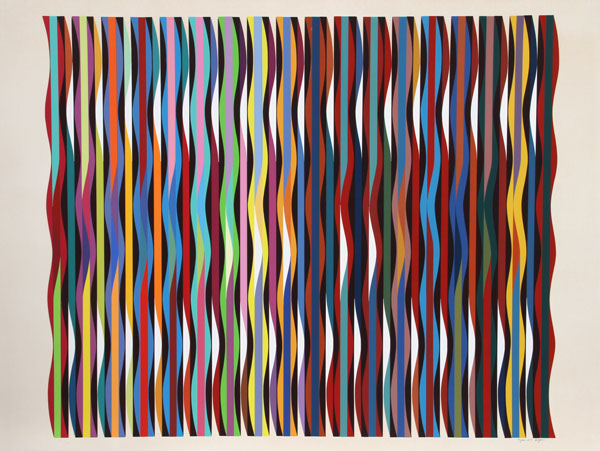 Artist: Yaacov Agam, Israeli (1928 - )
Title: Untitled 23
Year: circa 1980
Medium: Serigraph, signed and numbered in pencil
Edition: 22/150
Image Size: 29 x 35 inches
Size: 32 in. x 42.5 in. (81.28 cm x 107.95 cm)

SPLENDID UNTITLED 23 PRINT, YAACOV AGAM - SIGNED. This is a wonderful exciting print. Featured in several important published works on the artist. Limited Edition features sophisticated brilliant color tones in this print, excellent!
Made of the very Finest Archival Museum quality MINT CONDITION is highly desirable for collectors. This item selling in Upscale Art Galleries and Museum galleries when and if it can be found. This item is subject to availability. This is perfect for any elegant home, office, restaurant or place of business. WE CARRY SEVERAL Yaacov Agam works in our inventory.
YAAKOV AGAM
Yaakov Agam was born Yaakov Gipstein on 11 May 1928, in Rishon LeZion, (then Palestine).
Agam trained at the Bezalel Academy of Art and Design in Jerusalem, before moving to Zürich in 1949, where he studied under Johannes Itten at the Kunstgewerbe Schule He established himself as one of the leading pioneers of kinetic art at the Le Mouvement exhibition at the Galerie Denise René in 1955. He is also known for a type of print known as an "Agamograph", which uses lenticular printing to present radically different images, depending on the angle from which it is viewed.
Agam is the highest-selling Israeli artist. In a Sotheby's New York auction in 2009, when his "4 Themes Contrepoint" was sold for $326,500. He has participated in shows worldwide including many one-man exhibitions, including the retrospective exhibition held at the Musee National d'art Modeme in Paris in 1972.

We ship Internationally! Contact Us for details