MAKE AN OFFER TO BUY - CLICK HERE!

HAND SIGNED BLUE GUITAR: BUZZING OF THE BLUE GUITAR BY DAVID HOCKNEY RETAIL $8K
HIGHEST EXCELLENT QUALITY ORIGINAL FINE ART ETCHING AND AQUATINT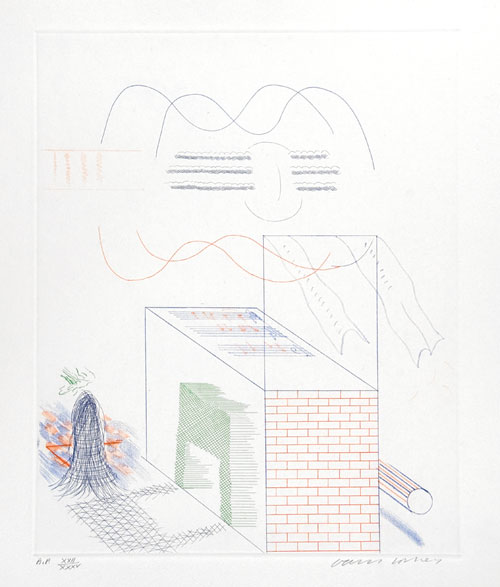 Artist: HOCKNEY, DAVID
Title: BLUE GUITAR: BUZZING OF THE BLUE GUITAR
Retail Price: $8,000.00
Size: 20x18 INCHES
Year: 1976
Medium: ETCHING AND AQUATINT
Edition: 35 AP
DAVID HOCKNEY RARE FABULOUS BEAUTIFUL ETCHING AND AQUATINT. Hand signed and numbered in pencil. Artwork is in excellent condition. Certificate of Authenticity included.

From the Blue Guitar Portfolio. David Hockney spent the summer of 1976 on Fire Island, New York, with art curator Henry Geldzahler and poet Christopher Isherwood, reading the poems of Wallace Stevens. He especially loved the long poem entitled The Man with the Blue Guitar, which had been inspired by Picasso's painting The Old Guitarist of 1903. Hockney had admired the works of Picasso for a long time, and he was excited by the way Stevens had woven an allusive and musical text around the theme of the interplay between reality and imagination. The Blue Guitar, etchings by David Hockney who was inspired by Wallace Stevens who was inspired by Pablo Picasso, and they were published both as a portfolio and as a book in spring 1977. In his introductory note, Hockney wrote, " The etchings themselves were not conceived as literal illustrations of the poem but as an interpretation of its themes in visual terms. Like the poem, they are about transformations within art as well as the relation between reality and the imagination, so these are pictures within pictures and different styles of representation juxtaposed and reflected and dissolved within the same frame." The Blue Guitar is a fascinating attempt to demonstrate the power of the imagination to question the world of appearances.

This item selling in Upscale Art Galleries and Museum galleries when and if it can be found. This item is subject to availability. This is perfect for any elegant home, office, restaurant or place of business.
David Hockney, (born 9 July 1937)
David Hockney is an English painter, printmaker, stage designer and photographer. He was featured in the exhibition Young Contemporaries along with artist Peter Blake – that announced the arrival of British Pop art. David Hockney became internationally famous in the early 1960s as one of the influential artists of the pop art movement in the United Kingdom. He emigrated to the United States and was known for his "swimming pool" paintings during the '60s

In 1963 Hockney visited New York, making contact with Andy Warhol. A subsequent visit to California, where he lived for many years, inspired Hockney to make a series of paintings of swimming pools in Los Angeles, rendered in a highly realistic style using vibrant colors. In October 2006 the National Portrait Gallery in London organized one of the largest ever displays of Hockney's portraiture work, including 150 of his paintings, drawings, prints.
We Ship Internationally.
Contact Us For Details.