MAKE AN OFFER TO BUY - CLICK HERE!


HAND SIGNED IF TIME WERE MY FRIEND BY MARK KOSTABI RETAIL $10.4K


HIGHEST EXCELLENT QUALITY ORIGINAL FINE ART OIL ON CANVAS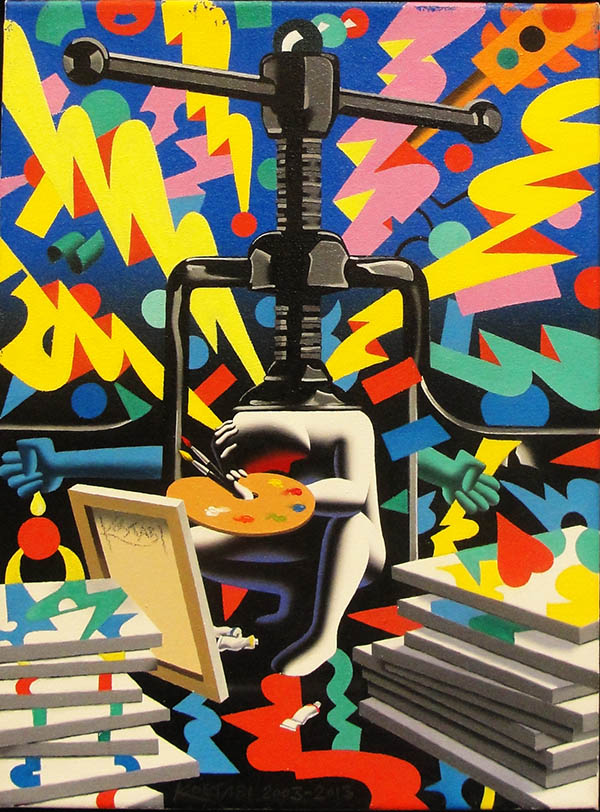 Artist: KOSTABI, MARK
Title: IF TIME WERE MY FRIEND
Retail Price: $10,400.00
Size: 17.75 X 23.75 INCHES
Year: 2003-2013
Medium: OIL ON CANVAS
Edition: ORIGINAL
MARK KOSTABI RARE FABULOUS BEAUTIFUL OIL ON CANVAS. Hand signed and dated on front; hand signed,titled and dated on verso. Artwork is in excellent condition. Certificate of Authenticity
This item selling in Upscale Art Galleries and Museum galleries when and if it can be found. This item is subject to availability. This is perfect for any elegant home, office, restaurant or place of business.
Mark Kostabi

Mark Kostabi was born in Los Angeles in 1960 to Estonian immigrants. He was raised in Whittier, California and studied drawing and painting at California State University, Fullerton. In 1982 he moved to New York and by 1984 he became a leading figure of the East Village art scene. During that time he also developed a provocative media persona by publishing self-interviews which commented on the commodification of contemporary art. By 1987 his works were widely exhibited in New York galleries and prominently throughout the United States, in Japan, Germany and Australia. Kostabi is also known for his many collaborations with other artists including Enzo Cucchi, Arman, Howard Finster, Tadanori Yokoo, Enrico Baj and Paul Kostabi.

His permanent public works include a mural in Palazzo dei Priori in Arezzo, Italy, a large bronze sculpture in the central square of San Benedetto del Tronto, Italy, and a bronze portrait of Pope John Paul II in Velletri, Italy.
We Ship Internationally.
Please contact us for details.