MAKE AN OFFER TO BUY - CLICK HERE!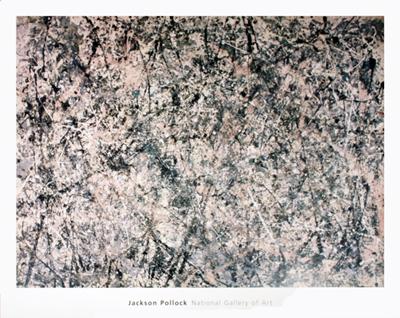 Jackson Pollock Number 1 (1950)
OFFICIAL Jackson Pollock Offset Lithograph

Medium: Offset Lithograph
Condition: A: Mint
Image Size: 34 x 46 in.
Paper Size: 40 x 50 in.
Year:

OFFICIAL Jackson Pollock ARTWORK
Jackson Pollock Number 1 (1950), This is a wonderful exciting Offset Lithograph. Original exhibition Poster for Portraits at Jablonka Galerie, Berlin 2007.This is one of three wallsize paintings that Pollock realized in swift succession in the summer and autumn of 1950. In 1947, Pollock began laying canvas on the floor and pouring, dribbling, and flicking enamel paint onto the surface, sometimes straight from the can, or with sticks and stiffened brushes. The density of interlacing liquid threads of paint is balanced and offset by puddles of muted colors and by allover spattering. The pictorial result of this tension is a landmark in the history of Abstract Expressionism.One is a masterpiece of the "drip," or pouring, technique, the radical method that Pollock contributed to Abstract Expressionism. Moving around an expanse of canvas laid on the floor, Pollock would fling and pour ropes of paint across the surface. One is among the largest of his works that bear evidence of these dynamic gestures. The canvas pulses with energy: strings and skeins of enamel, some matte, some glossy, weave and run, an intricate web of tans, blues, and grays lashed through with black and white. The way the paint lies on the canvas can suggest speed and force, and the image as a whole is dense and lushyet its details have a lacelike filigree, a delicacy, a lyricism.The Surrealists' embrace of accident as a way to bypass the conscious mind sparked Pollock's experiments with the chance effects of gravity and momentum on falling paint. Yet although works like One have neither a single point of focus nor any obvious repetition or pattern, they sustain a sense of underlying order. This and the physicality of Pollock's method have led to comparisons of his process with choreography, as if the works were the traces of a dance. Some see in paintings like One the nervous intensity of the modern city, others the primal rhythms of nature. Featured in several important published works on the artist. Limited Edition features sophisticated brilliant color tones in this print, excellent!
Made of the very Finest Archival Museum quality MINT CONDITION is highly desirable for collectors. This item selling in Upscale Art Galleries and Museum galleries when and if it can be found. This item is subject to availability. This is perfect for any elegant home, office, restaurant or place of business. WE CARRY SEVERAL Jackson Pollock Art works in our inventory.