MAKE AN OFFER TO BUY - CLICK HERE!

SET OF 3 SKATEBOARD DECKS BY ROBERT LONGO

SPLENDID LARGE ROBERT LONGO SILKSCREEN ON SKATEBOARD!
THIS SILKSCREEN ON SKATEBOARD IS ABSOLUTE MINT PERFECT CONDITION!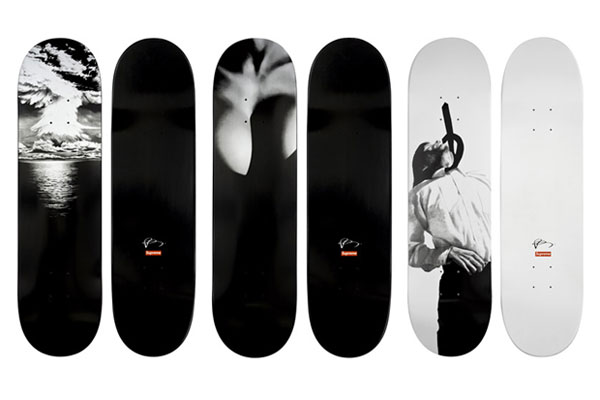 Artist: Robert Longo, American (1953 - )
Title: Set of 3 Skateboard Decks
Year: 2011
Medium: Silkscreen on Skateboard, signature in printing
Edition: 500
Size: 31 x 8.5 in. (78.74 x 21.59 cm)
INQUIRE FOR AVAILABILITY

ROBERT LONGO SET OF 3 SKATEBOARD DECKS, 2011 SILKSCREEN ON SKATEBOARD. Signature in printing.

Features amazing exciting tones on these skateboards, excellent! This elegant striking piece would make a splendid impression and fantastic statement anywhere. Features incomparable colorations and beautiful lines on these skateboards. NEW MINT CONDITION. This item selling in Upscale Art Galleries and Museum galleries when it can be found. This Set of 3 Skateboard Decks are perfect for any elegant home, office, restaurant or place of business " THIS ITEM IS SUBJECT TO AVAILABILITY!" .

ROBERT LONGO (1953)
Robert Longo was born in New York City in the borough of Brooklyn in 1953 and raised in Long Island a suburb of New York. Longo became interested and intrigued with all manner of mass media including television, popular movies, comics and magazines which continues to influence his work today. This fascination is evident in much of his work including his most recognized " Men in Cities" series. These taunt stylized figures are captured and frozen in mid motion.
His works have been shown and represented in numerous collections including Art Institute of Chicago, Guggenheim Museum, Walker Art Center in Minneapolis, and Museum of Modern Art in New York and Stedelijk Museum in Amsterdam. Longo resides and works in New York.
We ship Internationally!
Contact Us for details