MAKE AN OFFER TO BUY - CLICK HERE!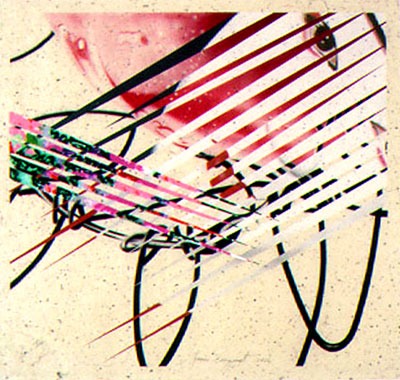 EXCITING JAMES ROSENQUIST, THE KABUKI BLUSHES, 1986

HIGHEST EXCELLENT QUALITY ORIGINAL OFFICIAL JAMES ROSENQUIST SIGNED LITHOGRAPH
The Kabuki Blushes, 1986
Lithography, Monoprint and Collage
39 x 41 inches
Edition of 59

INQUIRE FOR PRICE & AVAILABILITY
OFFICIAL JAMES ROSENQUIST ARTWORK!
EXCITING JAMES ROSENQUIST, THE KABUKI BLUSHES, 1986, This is a wonderful exciting SIGNED BY THE ARTIST LIMITED EDITION LITHOGRAPH, EDITION OF 59 DATE: 1986 Size approximate 39 x 41 inches Lithograph. Created by Artist James Rosenquist. Featured in several important published works on the artist. It is the RARE hard to find SIGNED Limited Edition features sophisticated brilliant color tones in this print, excellent!
Made of the very Finest Archival Museum quality Excellent NEW MINT CONDITION is Highly desirable for collectors. This item selling in Upscale Art Galleries and Museum galleries when and if it can be found. This item is subject to availability. This is perfect for any elegant home, office, restaurant or place of business. WE CARRY SEVERAL JAMES ROSENQUIST Art works in our inventory.
James Rosenquist (born November 29, 1933)
Rosenquist is an American artist and one of the protagonists in the pop-art movement. From 1957 to 1960, he earned his living as a billboard painter. As it turned out, this was perfect training, for an artist set to explode onto the pop art scene. Rosenquist deftly applied sign-painting techniques to the large-scale paintings he began creating in 1960. Like other pop artists, Rosenquist adapted the visual language of advertising and pop culture

His hallmark is taking fragmented, oddly disproportionate images and combining, overlapping, and putting them on canvases to create visual stories. He has been the subject of several gallery and museum exhibitions, both in the United States and abroad. The Solomon R. Guggenheim Museum organized a full-career retrospective in 2003.

OFFICIAL JAMES ROSENQUIST ARTWORK!
We Ship Internationally. Contact Us For Details.