MAKE AN OFFER TO BUY - CLICK HERE!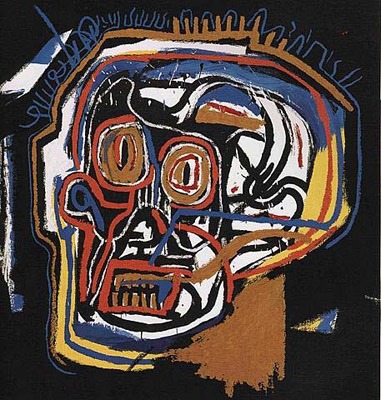 EXCITING JEAN MICHEL BASQUIAT, UNTITLED (HEAD), 1983/2001

HIGHEST EXCELLENT QUALITY ORIGINAL OFFICIAL JEAN MICHEL BASQUIAT SIGNED SCREENPRINT

Untitled (Head), 1983/2001
Screenprint
40 x 40 inches
Edition of 85

INQUIRE FOR PRICE & AVAILABILITY
OFFICIAL JEAN MICHEL BASQUIAT ARTWORK!
EXCITING JEAN MICHEL BASQUIAT, UNTITLED (HEAD), 1983/2001 , This is a wonderful exciting SIGNED BY THE ARTIST FATHER FAMILY MEMBER LIMITED EDITION SCREENPRINT, EDITION OF 85 , DATE: 1983/2001 Size approximate 40 x 40 inches Screenprint. Created by Artist Jean Michel Basquiat. Featured in several important published works on the artist. It is the RARE hard to find SIGNED Limited Edition features sophisticated brilliant color tones in this print, excellent!
Made of the very Finest Archival Museum quality Excellent NEW MINT CONDITION is Highly desirable for collectors. This item selling in Upscale Art Galleries and Museum galleries when and if it can be found. These are dated thru 2005,and are subject to availability. This is perfect for any elegant home, office, restaurant or place of business. WE CARRY SEVERAL JEAN MICHEL BASQUIAT Art works in our inventory.
Jean-Michel Basquiat(December 22, 1960 – August 12, 1988)
He began as a graffiti artist in New York City in the late 1970s and evolved into a Neo-expressionist painter during the 1980s.
His father, Gerard Basquiat, was born in Port-au-Prince, Haiti, and his mother, Matilde Basquiat, was of Puerto Rican descent, born in Brooklyn, New York. His teachers noticed his artistic abilities, and his mother encouraged her son's artistic talent. In 1976, Basquiat began spray-painting graffiti on buildings in Lower Manhattan, under the pseudonym SAMO.

Later "The Radiant Child" in Artforum magazine, which brought Basquiat to the attention of the art world. Basquiat often incorporated words into his paintings. His paintings are typically covered with text and codes of all kinds: words, letters, numerals, pictograms, logos, map symbols, diagrams. Basquiat with his unique powerful brand of graffiti art and Neo-expressionist was showed regularly alongside other Neo-expressionist artists including Julian Schnabel, David Salle, Francesco Clemente. He was represented in Los Angeles by the Larry Gagosian gallery. He briefly dated then-aspiring performer, Madonna, in late 1982. Basquiat also worked briefly with David Bowie. Warhol befriended Basquiat, with whom he later collaborated

By 1986, Basquiat hadappeared on the cover of The New York Times Magazine in a feature entitled "New Art, New Money: The Marketing of an American Artist" His works now command prices in the millions at Christie's, Ulrich sold a 1982 Basquiat piece, Untitled (Boxer), for US$13,522,500 and a record price for a Basquiat painting was made on May 15, 2007, when an untitled Basquiat work from 1981 sold at Sotheby's in New York for US$14.6 million. He is a major Artist with International museum acclaim & gallery shows worldwide. His works appear in the prominent exhibitions of many major museums

OFFICIAL JEAN MICHEL BASQUIAT ARTWORK!
We Ship Internationally. Contact Us For Details.