MAKE AN OFFER TO BUY - CLICK HERE!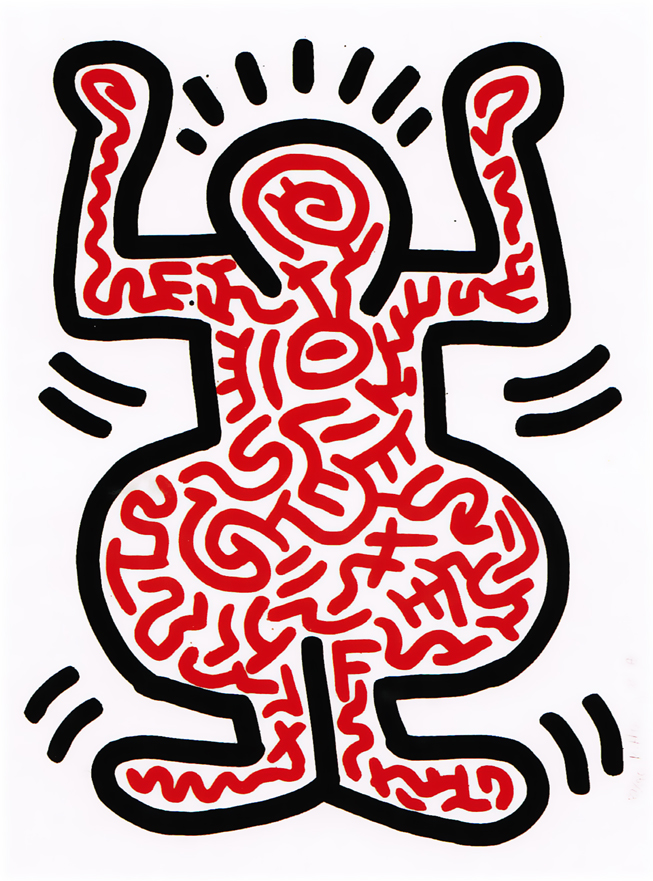 FABULOUS HARING EDITION PRINTS, LUDO #1, 1985

HIGHEST EXCELLENT QUALITY ORIGINAL OFFICIAL KEITH HARING SIGNED LITHOGRAPH
Ludo #1, 1985
Lithograph
26 x 19 inches
Edition of 90

INQUIRE FOR PRICE & AVAILABILITY
OFFICIAL KEITH HARING ARTWORK!
FABULOUS HARING EDITION PRINTS, LUDO #1, 1985, This is a wonderful exciting SIGNED BY THE ARTIST LIMITED EDITION LITHOGRAPH, EDITION OF 90, DATE: 1985 Size approximate 26 x 19 inches Lithograph. Created by Artist Keith Haring. Featured in several important published works on the artist. It is the RARE hard to find SIGNED Limited Edition features sophisticated brilliant color tones in this print, excellent!
Made of the very Finest Archival Museum quality Excellent NEW MINT CONDITION is Highly desirable for collectors. This item selling in Upscale Art Galleries and Museum galleries when and if it can be found. This item is subject to availability. This is perfect for any elegant home, office, restaurant or place of business. WE CARRY SEVERAL KEITH HARING Art works in our inventory.
Keith Haring
Keith Haring (May 4, 1958 – February 16, 1990) was an artist and social activist whose work responded to the New York City street culture of the 1980s.

Haring achieved his first public attention with chalk drawings in the subways of New York. These were his first recognized pieces of pop art "The Radiant baby" became his symbol. His bold lines, vivid colors, and active figures carry strong messages of life and unity.

Haring contributed to the New York New Wave display in 1981 and in 1982, he had his first exclusive exhibition in the Tony Shafrazi Gallery. By 1982, he established friendships with fellow emerging artists Futura 2000, Kenny Scharf, Madonna and Jean-Michel Basquiat. He took part in the Whitney Biennial in 1983. He got to know Andy Warhol, who was the theme of several of Haring's pieces including "Andy Mouse." His friendship with Warhol would prove to be a decisive element in his eventual success, particularly after their deaths.

Throughout his career, Haring devoted much of his time to public works, which often carried social messages, producing more than 50 public artworks between 1982 and 1989, many of which were created for charities, hospitals, children's day care centers and orphanages.

Haring's work was featured in over 100 solo and group exhibitions. He was highly sought after to participate in collaborative projects ,and worked with artists and performers as diverse as Madonna, Grace Jones, Bill T. Jones, William Burroughs, Timothy Leary, Jenny Holzer, Yoko Ono and Andy Warhol.

Haring died February 16, 1990 of AIDS-related complications. By expressing concepts of birth, death, love, sex and war, Haring's imagery has become a widely recognized visual language of the 20th century. Haring has been the subject of several international retrospectives. The work of Keith Haring can be seen today in the exhibitions and collections of major museums around the world.

OFFICIAL KEITH HARING ARTWORK!
We Ship Internationally. Contact Us For Details.