MAKE AN OFFER TO BUY - CLICK HERE!

Great Ebony in White, 1982 Ltd Ed Silk-screen, Erte
SIGNED BY THE ARTIST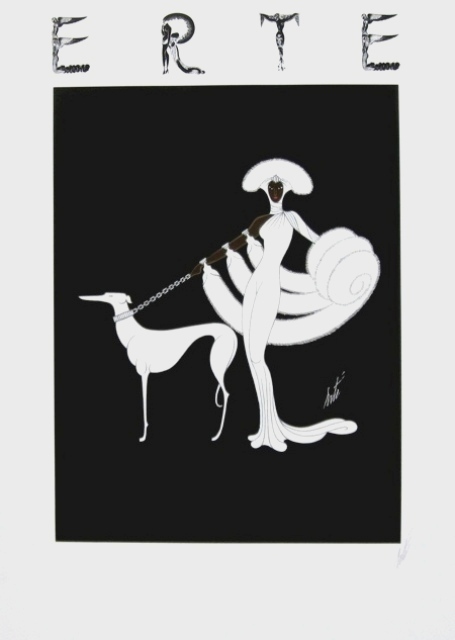 SIZE 32" x 24" INCHES
RARE FABULOUS BEAUTIFUL SILK-SCREEN. Made of the very Finest Archival Museum quality Excellent NEW MINT CONDITION is highly desirable for collectors. This item selling in Upscale Art Galleries and Museum galleries when and if it can be found. This item is subject to availability. This is perfect for any elegant home, office, restaurant or place of business. WE CARRY SEVERAL works by this artist in our inventory.
Original Limited Edition Silk-screen on premium paper, 1982. Paper Size: 32" x 24." Signed in pencil by the artist. Published by Seven Arts. Excellent Condition; never framed or matted. Certificate of Authenticity included. Suggested Retail Gallery Price: $1,250.
ERTE (1892- 1990)
Russian born artist Romain de Tirtoff who called himself Erte after the French pronunciation of his initials, was one of the foremost fashion and stage designers of the early twentieth century. He contributed drawing to Harper's Bazaar for over 22 years.
In 1915 he began his long relationship with Harper's Bazaar, during which time he created over 240 covers for the magazine. His fashion designs also appeared in many other publications, making him one of the most widely recognized artists of the 1920s. In 1976 the French government awarded Erte the title of Officer of Arts and Letters, and in 1982 the Medaille de Vermeil de la Ville de Paris was bestowed upon him.
The influence of his work as a result of the high visibility of this periodical influenced an entire art movement that was to become known as "Art Deco". His work is in many prominent museums, including the Metropolitan Museum of Art in New York, the Los Angeles County Museum, the Smithsonian Institution in Washington, D.C., and the Victoria and Albert Museum in London.
We Ship Internationally. Contact Us For Details