MAKE AN OFFER TO BUY - CLICK HERE!

HAND SIGNED CALLA LILIES, VERONA I BY JIM DINE RETAIL $9K
HIGHEST EXCELLENT QUALITY ORIGINAL FINE ART WOODCUT, AQUATINT, AND DRYPOINT IN COLORS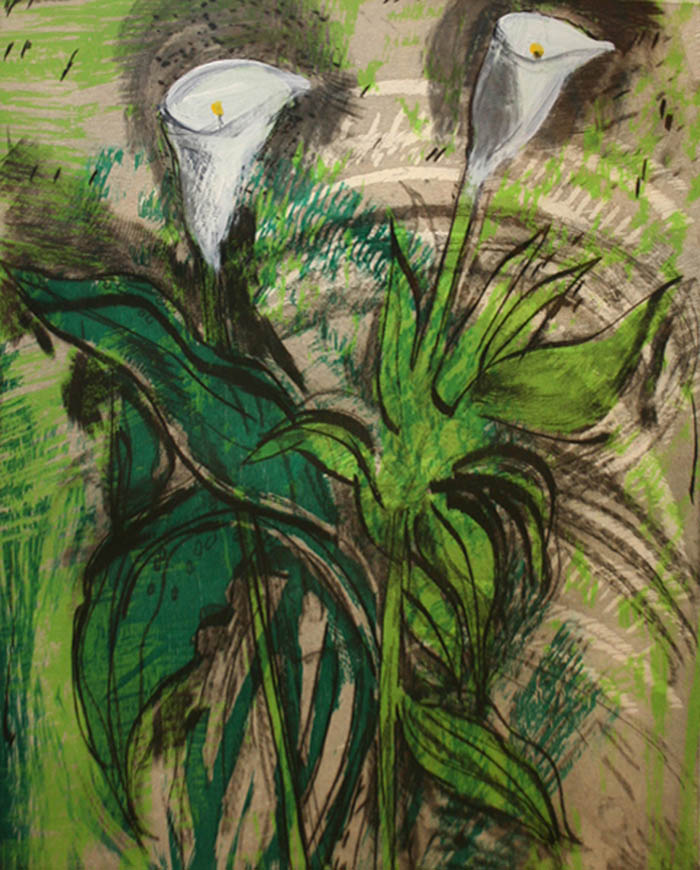 Artist: DINE, JIM
Title: CALLA LILIES, VERONA I
Retail Price: $9,000.00
Size: 32x27 INCHES
Year: 1992
Medium: WOODCUT, AQUATINT, AND DRYPOINT IN COLORS
WITH ADDITIONAL HAND COLORING IN ACRYLIC AND CHARCOAL
Edition: 50

JIM DINE RARE FABULOUS BEAUTIFUL WOODCUT, AQUATINT, AND DRYPOINT IN COLORS. Hand signed and numbered. Artwork is in excellent condition. Certificate of Authenticity included. This is 1/3 pieces in the suite.

This item selling in Upscale Art Galleries and Museum galleries when and if it can be found. This item is subject to availability. This is perfect for any elegant home, office, restaurant or place of business.or place of business.
Jim Dine (born June 16, 1935)

Jim Dine is an American pop artist. He is sometimes considered to be a part of the Neo-Dada movement. He first earned respect in the art world with his Happenings. Pioneered with artists Claes Oldenburg and Allan Kaprow, in conjunction with musician John Cage, the "Happenings" were chaotic performance art.
In 1962 Dine's work was included, along with Roy Lichtenstein, Andy Warhol, Robert Dowd, Phillip Hefferton, Joe Goode, Edward Ruscha, and Wayne Thiebaud, in the historically important and ground-breaking New Painting of Common Objects, curated by Walter Hopps at the Norton Simon Museum. In the early 1960s Dine produced pop art with items from everyday life. in 1971 he focused on several series of drawings. In the 1980s sculpture resumed a prominent place in his art. In the time since then there has been an apparent shift in the subject of his art from man-made objects to nature. He is a major Pop Artist with International museum acclaim & gallery shows worldwide. His works appear in the prominent exhibitions of many major museums.
We Ship Internationally.
Contact Us For Details.