MAKE AN OFFER TO BUY - CLICK HERE!


HAND SIGNED LA CELESTINE (BLOCH 1600) BY PABLO PICASSO RETAIL $18K

HIGHEST EXCELLENT QUALITY ORIGINAL FINE ART AQUATINT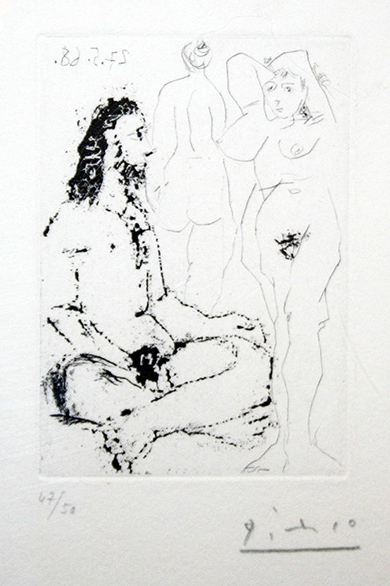 Artist: PICASSO, PABLO
Title: LA CELESTINE (BLOCH 1600)
Retail Price: $18,000.00
Size: 3.25 X 2.25 INCHES
Year: 1968
Medium: AQUATINT
Edition: 50
PABLO PICASSO RARE FABULOUS BEAUTIFUL AQUATINT. Hand signed and numbered in pencil, from the book "La Célestine". Bloch Vol. II n°1600. Artwork is in excellent condition. Certificate of Authenticity included.

This item selling in Upscale Art Galleries and Museum galleries when and if it can be found. This item is subject to availability. This is perfect for any elegant home, office, restaurant or place of business.
PABLO PICASSO (1881-1973)

Pablo Picasso is recognized as one of the most significant, important and critically acclaimed artists of the 20th century.

Picasso is considered the master of 20th-century art, Picasso exploded the conventional art boundaries and discovered new dimensions for his prolific diverse talents. Picasso was born on October 25, 1881, in Malaga, Spain, son of an artist, Jose Ruiz, and Maria Picasso. Picasso was an artistic prodigy by the age of 15, technically skilled in drawing and painting at an early age, by late 1906 had begun painting in a revolutionary manner. Inspired by Paul Cézanne.

Spanish painter, sculptor, graphic artist, and ceramicist who worked in France, a leader of the School of Paris, he was outstanding for his technical virtuosity, unbelievable originality, and prolificacy.His enormous body of work spans so many years that art experts tend to separate his career into distinct phases, such as the Blue Period, the Rose Period and his most famous contribution to modern art, Cubism. Picasso, unlike so many before him, was an international celebrity as well as an important contributor to the world of art.

During Picasso's Rose Period from about 1905 to 1906, his style moved away from the Blue Period to a friendly pink tone. He changed art profoundly in the 20th century. Picasso died on April 8, 1973 at his home, Notre-Dame-de-Vie in Mougin, France at the age of 91. Picasso 's works are highly sought after by museums and art collectors worldwide. Picasso is widely considered as one of the undisputed greatest artists of the 20th century.
We Ship Internationally.
Please contact us for details.