MAKE AN OFFER TO BUY - CLICK HERE!

HAND SIGNED SILENT CONTEMPLATION BY PINO RETAIL $2.2K
HIGHEST EXCELLENT QUALITY ORIGINAL FINE ART GICLEE/ ON CANVAS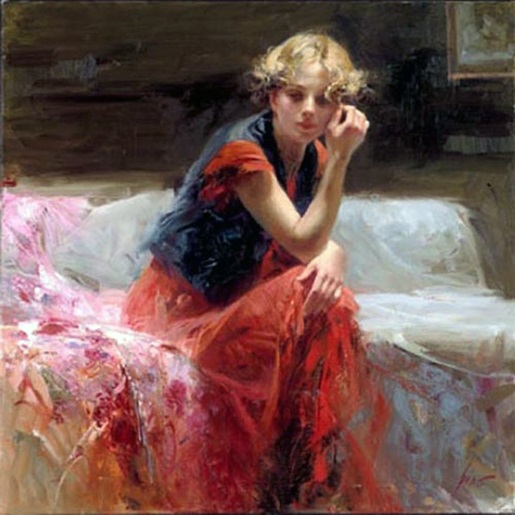 Artist: PINO
Title: SILENT CONTEMPLATION
Retail Price: $2,200.00
Size: 30x30 INCHES
Medium: GICLEE/ ON CANVAS
Edition: 195
PINO RARE FABULOUS BEAUTIFUL ORIGINAL GICLEE/ ON CANVAS. Hand signed and numbered. Certificate of authenticity included. Additional images are available upon request. Please do not hesitate to ask further questions.
Giuseppe "Pino" Dangelico (1939-2010)

Born Giuseppe "Pino" Dangelico Daeni in Bari, Italy,(1939-2010) Trained at The Art Institute of Bari and later at Milan's Academy of Brea, perfecting his skills painting nudes and figures and was heavily influenced by the Pre-Raphaelites and Macchiaioli.

After establishing himself as a successful artist in his native land, Pino decided to immigrate to the United States in search of further artistic freedom and opportunity. He is known for his unique style of feminine, spectacular romantic women and strong men painted with his loose but accurate brushwork. Considered one of the highest paid book illustrators of his time. His popularity grew quickly within the literary community, becoming the artist-in-demand for Zebra, Bantam, Simon and Schuster, Harlequin, Penguin USA and Dell. Over the decades Pino illustrated the covers of over 3,000 books, movie posters and magazine illustrations,

Pino's unmistakable artworks ceate feelings of warmth, nostalgia, love and family often set on picturesque beaches on the Mediterranean where he grew up. Pino's exceptional ability to capture the movements, expressions and deep contemplation of his subjects has brought his artwork a worldwide following and many commissions for private portraits. Pino's technique and hallmark style demonstrates why his original artworks, limited edition giclées and serigraphs are highly sought after by art connoseurs and collectors worldwide.
We Ship Internationally.
Please contact us for details.