MAKE AN OFFER TO BUY - CLICK HERE!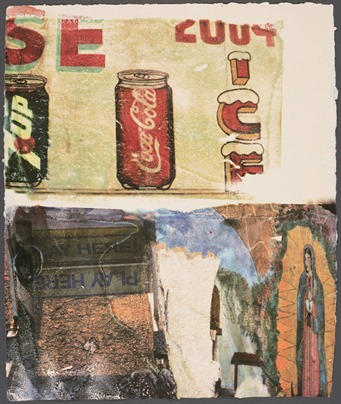 RARE ROBERT RAUSCHENBERG, ROBERT RAUSCHENBERG LA UNCOVERED #3, 1998

HIGHEST EXCELLENT QUALITY ORIGINAL OFFICIAL AUTHORIZED ROBERT RAUSCHENBERG SIGNED SCREENPRINT

LA Uncovered #3, 1998
Screenprint
24 1/2 x 20 3/4 inches
Edition of 57

INQUIRE FOR PRICE & AVAILABILITY
OFFICIAL AUTHORIZED ROBERT RAUSCHENBERG ARTWORK!
RARE ROBERT RAUSCHENBERG, ROBERT RAUSCHENBERG LA UNCOVERED #3, 1998, This is a wonderful exciting SIGNED BY THE ARTIST LIMITED EDITION 57 DATE: 1998 Size approximate 24 x 20 inches multiple with hand-coloring, steel, powder-coating, and polyurethane. Created by Artist Robert Rauschenberg. Featured in several important published works on the artist. It is the RARE hard to find SIGNED Limited Edition features sophisticated brilliant color tones in this print, excellent!
Made of the very Finest Archival Museum quality Excellent NEW MINT CONDITION is Highly desirable for collectors. Approved and Authorized by the Robert Rauschenberg Foundation. This item selling in Upscale Art Galleries and Museum galleries when and if it can be found. This item is subject to availability. This is a very large Screenprint, perfect for any elegant home, office, restaurant or place of business. WE CARRY SEVERAL ROBERT RAUSCHENBERG Art works in our inventory.
Robert Rauschenberg (Born: Port Arthur, Texas, 1925)
Robert Rauschenberg is one of the most influential and major artists of his generation and is credited along with Jasper Johns of breaking the domination of Abstract Expressionism. He began his formal art education at the Kansas City Art Institute in 1946. Rauschenberg works are highly sought after and collected by major international museums. Known for his extraordinary innovative multimedia works incorporating collage, assemblage, conceptualist methods, printmaking, Silk-screening, and non-artistic materials which that anticipated later movements such as Pop Art, Conceptualism, and Minimalism. He also pioneered the use of electronics in art.
"ARTNews" magazine featured him as one of the top twenty-five influential western artists. One of Rauschenberg's first and most famous combines was entitled "Monogram" (1959) and consisted of an unlikely set of materials: a stuffed angora goat, a tire, a police barrier, the heel of a shoe, a tennis ball, and paint. This pioneering altered the course of modern art. The idea of combining and of noticing combinations of objects and images has remained at the core of Rauschenberg's work.
Rauschenberg has been referred to as the Father of Pop Art. His appropriation of images from magazines and newspapers, the feeling of interior and spatial design, and the segments of paint in an abstract style mark him as a pivotal figure in art history. In 1958 Rauschenberg had an exhibition in New York City that catapulted him to prominence, and his paintings soon entered the collections of every large museum in America and abroad. In January 1998, the Guggenheim Museum launched a major retrospective covering his career of more than 50 years pushing him into the forefront of the minds of collectors, historians, and the public all over the world.


OFFICIAL AUTHORIZED ROBERT RAUSCHENBERG ARTWORK!
We Ship Internationally. Contact Us For Details.