Seven A.M. - Edward Hopper
Product Description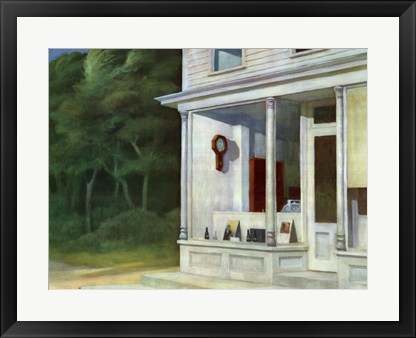 Seven A.M.
Artist: Edward Hopper
Type: Fine-Art Print
Paper Size: 31" x 25"
This is a Museum Quality Fine Art Print FRAMED PRINT
You are viewing a museum quality fine-art print.Beautiful custom framed with custom mat and with Plexiglass.Each frame is individually made by our professional expert framers right here in the United States. Our workmanship is of the highest quality. The prints we carry are produced using either the lithographic or serigraphic printing process and are printed on high quality archival acid free paper. Each print is of the highest museum art print reproduction quality and are supplied by the world's leading art publishers and artists. These prints rival any detailed reproduction from their originals and are geared towards the discerning eye of the particular art collector. This print is perfect for any elegant home, office, restaurant or place of business.

FRAMING OPTIONS:

This artworks is available for beautiful affordable expert custom framing. Custom framing options are available when listed in item description. Our high quality custom framing is done here in the USA, by our expert framing craftsmen. Please visit our framing page if you are require additional framing options not show with your item listing. (Please note if you are interested in this item unframed, please contact us for pricing.)

CANVAS OPTIONS & Canvas Prints, Canvas Tranfers

Many of our Artworks are available on canvas. See item listing for this option.

Transferring a print onto Canvas is an elegant treatment that transforms the print to look like an original painting. Each Canvas Transfer is custom made, and begins with the meticulous process of transferring the lithographic inks to a high grade artist's canvas. This detailed process preserves and protects the image. The canvas is then stretched and fit onto a custom-cut wooden frame. Our Ready-to-Hang Canvas Transfers are an affordable alternative to an original work of art.
---
Find Similar Products by Category
---
Customers Who Viewed This Product Also Viewed