MAKE AN OFFER TO BUY - CLICK HERE!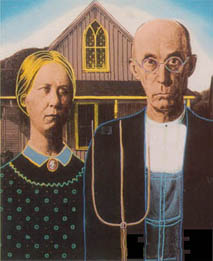 SPLENDID STEVE KAUFMAN AMERICAN GOTHIC - STATE I LARGE HAND SIGNED LIMITED EDITION SCREENPRINT ON CANVAS
HIGHEST EXCELLENT QUALITY ORIGINAL AMERICAN GOTHIC STATE I HAND SIGNED SCREENPRINT
AMERICAN GOTHIC STATE I

Size: 28 x 36 inches,

Edition size: Edition of 225

Gallery List Price: US$ 4,000.00
OFFICIAL AUTHORIZED STEVE KAUFMAN ARTWORK!
SPLENDID STEVE KAUFMAN AMERICAN GOTHIC - STATE I LARGE HAND SIGNED LIMITED EDITION SCREENPRINT, This is a wonderful exciting SIGNED BY THE ARTIST LIMITED EDITION SCREENPRINT Created by Artist Steve Kaufman. Featured in several important published works on the artist. It is the RARE hard to find SIGNED Limited Edition features sophisticated brilliant color tones in this artwork, excellent!
Made of the very Finest Archival Museum quality Excellent NEW MINT CONDITION is Highly desirable for collectors. Rare, hard to find piece. This item is subject to availability. This is a large Screenprint, perfect for any elegant home, office, restaurant or place of business. WE CARRY OVER 300 STEVE KAUFMAN Art works.
STEVE KAUFMAN aka "SAK" (1960 - 2010)
Steve Kaufman is the former assistant of legendary pop artist Andy Warhol and Steve also known as aka SAK is now regarded as one of the most highly sought after and important pop artists of our time. After leaving the Warhol Studio, Kaufman embarked on establishing himself and his innovative vision and approach to art. He has refined the silk-screening process for greater self-expression. Kaufman's works are today in major collections including Andy Warhol Foundation, The White House, The Smithsonian, Van Gogh Musuem, Amsterdam Museum, Saatchi & Saatchi, Marilyn Monroe Estate and More.
Kaufman is known for his exciting Warholesque art works, which include paintings, silk screens and Serigraphs. He is most known for his superb and striking celebrity paintings and works which include fabulous portraits of iconic celebrities including Marilyn Monroe, Princess Diana, Madonna, Lady Gaga, Picasso and Beethoven to Martin Luther King Jr. and President Clinton.
His works are highly sought after. Kaufman aka SAK has received accolades and acclaim and has captured the attention of avid art collectors worldwide. His clients include the likes of Elizabeth Taylor, Calvin Klein, Mickey Mantle and many more. Not only is Kaufman a major creative force, he was also seriously involved in raising over $5 Million dollars, working with over 150 charities and dedicated to making a positive difference in the world.
KEYWORDS: Steve Kaufman Artwork, Steve Kaufman serigraph, Steve Kaufman, Kaufman screenprint, Steve Kaufman bio, Steve Kaufman popart, Steve Kaufman painter, Steve Kaufman work, Steve Kaufman works, Steve Kaufman screenprint, Steve Kaufman publication, Steve Kaufman lithograph, Steve Kaufman print, Steve Kaufman poster, Steve Kaufman exhibition, Steve Kaufman gallery, Steve Kaufman photograph, Steve Kaufman modern art, Steve Kaufman exhibit, Steve Kaufman artwork
We Ship Internationally. Contact Us For Details.