MAKE AN OFFER TO BUY - CLICK HERE!

HAND SIGNED ART CRITIC BY ROY LICHTENSTEIN RETAIL $75K
HIGHEST EXCELLENT QUALITY ORIGINAL FINE ART SCREENPRINT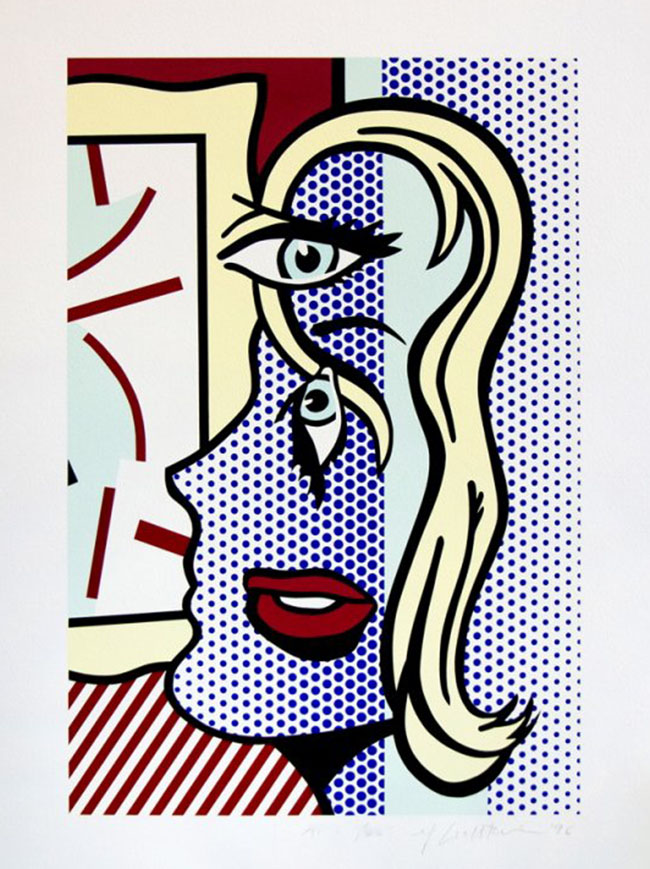 Artist: LICHTENSTEIN, ROY
Title: ART CRITIC
Retail Price: $75,000.00
Size: 26 X 19 INCHES
Year: 1996
Medium: SCREENPRINT ON 300 GRAM SOMERSET TEXTURED PAPER
Edition: 150

ROY LICHTENSTEIN RARE FABULOUS BEAUTIFUL SCREENPRINT ON 300 GRAM SOMERSET TEXTURED PAPER. Hand Signed And Numbered in Pencil, Lower Right. Piece Was Done As a Favor For the Brooklyn Academy of Music in Which the Artist Was a Board Member From 1984-87. Published By Brooklyn Academy of Music, Ny. Printed By Noblet Serigraphie Inc., Ny. Additional Images Available Upon Request. Certificate of Authenticity Included. Artwork in Excellent Condition.

This item selling in Upscale Art Galleries and Museum galleries when and if it can be found. This item is subject to availability. This is perfect for any elegant home, office, restaurant or place of business.
Roy Lichtenstein
Robert Lichtenstein (b. 1923- 1997 New York NY) An American painter who was a founder and foremost practitioner of Pop art, a movement that countered the techniques and concepts of Abstract Expressionism with images and techniques taken from popular culture. During the 1960s his paintings were exhibited at the Leo Castell Gallery in New York City and along with Andy Warhol, Jasper Johns, James Rosenquist and others he became a leading figure in the new art movement. His work defined the basic premise of pop art genre. He also taught at New York State University College, and Rutgers University.

At the start of his artistic career, Lichtenstein painted themes from the American West in a variety of modern art styles; he dabbled in 1957 even in Abstract Expressionism, a style he later reacted against. His interest in the comic-strip cartoon as an art theme probably began with a painting of Mickey Mouse and Donald Duck he made in 1960 for his children. Although he was initially dissatisfied with his technique and uncomfortable with direct appropriation, he took great pleasure in presenting well-known comic strip figures in a fine art format. He increased the size of his canvases and began to manipulate to his own ends the graphic and linguistic conventions of comic strips. He developed a detached, mass-produced effect by outlining areas of primary color with thick black lines and using a technique that simulated benday screening (a dot pattern used by engravers).

Lichtenstein's first one-man show, held in New York City in 1962, was great commercial success, and his innovative work found an international audience. In 1966 he became the first American to exhibit at London's Tate Gallery. His work can be seen today in the exhibitions and collections of major museums around the world.
We Ship Internationally.
Contact Us For Details.